For more than 20 years VBR Turbine Partners are independent maintenance experts for GE LM aeroderivative gas turbines. Our specialized maintenance engineers have high standards when it comes to the right tooling to perform their high-quality professional work. To support them in doing their outstanding work for our customers VBR has developed dedicated tooling like LM2500(+) and LM6000 maintenance dollies, engine transport containers, lifting beams, hot section exchange tooling and dedicated mechanical and controls & instrumentation tool cases.
Tooling; tailor made for gas turbines
VBR tailor-made LM maintenance tools are also available to our customers to enhance the capabilities of their on-site maintenance staff.
All VBR engineered LM maintenance tooling is locally manufactured in Europe and contains multiple improvements. All VBR LM tooling enhancements are derived from our long-term on-site expertise and experience in maintaining LM2500(+) and LM6000 gas turbines.
LM6000 maintenance dolly
The most versatile LM6000 (PA-PH) maintenance dolly with many practical improvements.
Foldable running boards;
6 wheel design;
Better wheels and suspension;
Better lock up system to adjust the wheels;
Triangle useable for both sides for easy towing;
Higher design for work underneath the engine;
For all versions of the LM6000.
LM2500(+) maintenance dolly
The most versatile LM2500 (+) maintenance dolly with many practical improvements.
Applicable for LM2500 and LM2500+ versions;
Can be used as stand alone gas turbine, gas generator or power turbine dolly;
Can be used as transport or maintenance dolly;
Secure transport through TMF aft flange support (thick and thin flange);
Support brackets for DLE manifold included.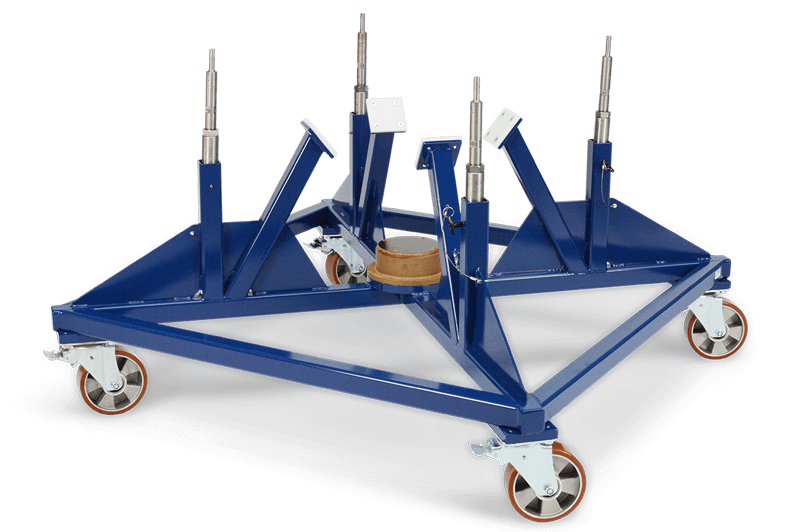 High Pressure Turbine Rotor – Vertical stand
This tool is used to store the HPT rotor assembly during a hot section exchange or major overhaul.
Dedicated mechanical tool case
Dedicated mechanical tool case for all LM2500 (+, G4), LM6000 (PA-PH) and LM1600 engines.
The benefits of dedicated VBR tooling
High standard tooling;
Optimized tooling designed through years of field experience
More tooling
Fixture Lift, Compressor Stator Case
Fixture Lift, Turbine Mid Frame
LM2500(+) engine transport container
LM6000 engine transport container
LM2500(+) hot section tooling
LM6000 hot section tooling
LM mechanical toolcase
Interested in improved LM maintenance tooling?
We look forward to provide you with the best available answers and solutions.